Materials Needed

Plastic shoebox
Container of water
Collection of object that will either float or sink
Teacher demonstrates the activity in group time.
Then the activity itself is put in a center where children can go and use the recording sheet. Either teacher or aide supervises the activity.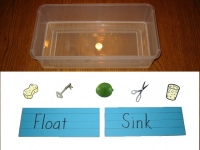 Student use worksheet provided, cut out the pictures of the items, and paste under category of float or sink.